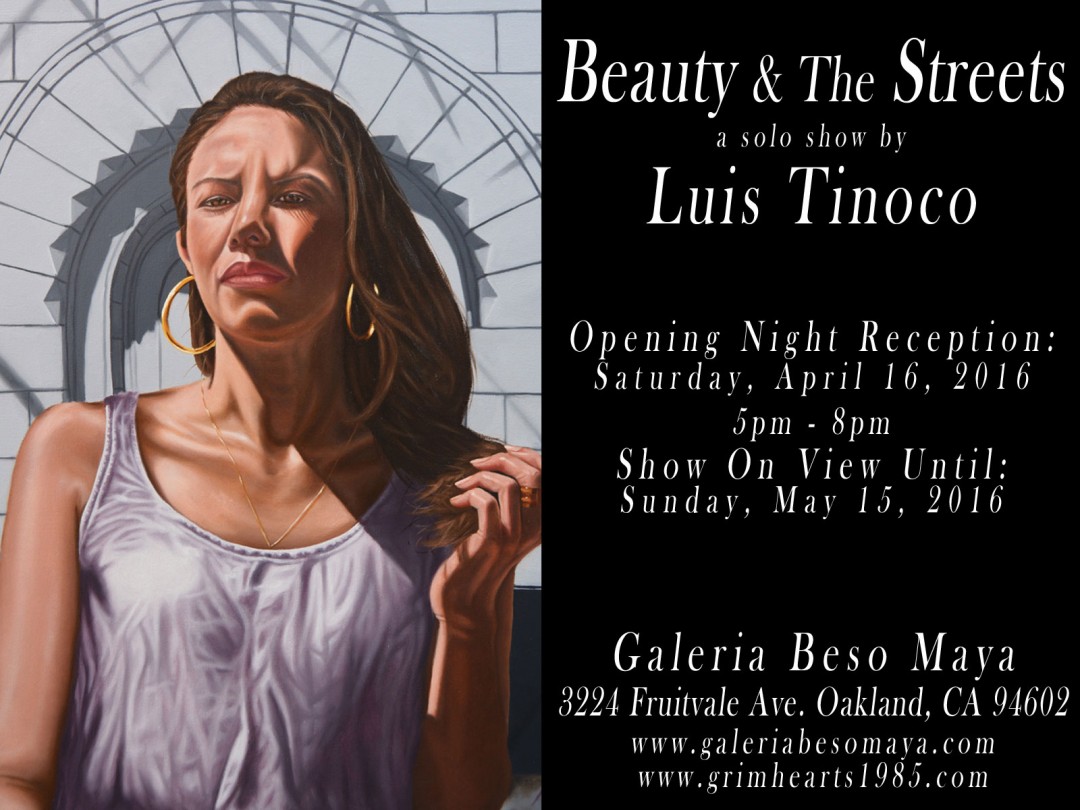 Solo Show: Beauty & The Streets
Hi Everyone! It's been some time since I've posted some content. I've been extremely busy painting, drawing, gathering reference images on some trips of locations and models all in an effort to create better and more substantial compositions. I've been preparing for my first solo show and taking on a great amount of work in order to execute this all in an efficient and cohesive manner and mostly everything at this point has been handled in a very DIY fashion which I'm accustomed to.

Everything that will be shown is from my series "Beauty & The Streets" which I've been working on since 2012. For the past 4 years it's been a tremendous learning experience in all aspects of composition, story telling, photography, lighting, painting, drawing and overall effectiveness of the final image. Doing everything with intent and purpose has become the main driving force to what I do in the series and my work, but also in daily life.
I owe a lot of my efforts to the artists I admire and have studied from whether in workshops or via instructional videos. Casey Baugh, Carl Dobsky, Donato Giancola, Greg Manchess, Shawn Barber, Jeremy Lipking, David Kassan, Scott Waddell.. the list goes on. I dropped out of college and stopped taking art classes back in 2007 and took a hiatus for a while from creating anything. I had grown tired of not learning what I wanted and grew frustrated at the instructors who taught classes with little structure and had little patience for a hungry student wanting to ask questions and learn as much as possible. I became resentful and felt I was wasting my true potential…
It wasn't until about late 2009 that I started getting back into drawing and got into digital art. I was doing artwork for local bands and just had a lot of creative freedom and was enjoying creating things for fun. I started getting into acrylic paint and mixed media art doing more traditional work. In 2010 I got more serious about my work and pursued a more independent approach to working which suited me well. That same year I was approached by a curator of a gallery in Las Vegas to participate in a 2 person show. I'd never shown at a gallery before and I jumped at the chance not knowing what lie ahead…
Since my first gallery show in 2010, my resume has grown modestly and I've shown at numerous galleries on both the east and west coast, but have mainly stuck with galleries in California. My skills have grown exponentially and I've stuck with oil paints, charcoal and graphite as my main "weapons of choice".  It's been a struggle to get to this point which was well worth it and I'm happy I chose the independent route. I hope to keep growing, learn more and create powerful imagery.

Beauty & The Streets was something that started out as a smaller idea with no real background for some time. Sketches in my sketchbook and vague ideas in my head of what would look cool as an oil painting kept popping up. It took a couple years to roughly shape the thesis and a few more to come up with the narrative. What I want to convey with this show is that greatness can be achieved if given a chance. Opportunity seems to be lacking in today's world. The assumption that you will fail immediately, proving the powers that be right and never given a chance again is a deep fear that anyone can relate to. In today's American society it seems like this is part of the struggle. The powers that be are the men, and the person waiting for opportunity are the women. Women are treated unjustly and have been for hundreds of years. Not only are women unfairly treated and undervalued within american society, but they're vastly underrepresented. Within politics, upper management, science, media, women are underrepresented due to patriarchal using its unjust social system to enforce gender roles.
I have a small platform to highlight a small fraction of the main issues that women face in that I'm not concentrating on the negative aspects. I want to use that platform to focus on who women are and how they should be viewed. They're strong, independent, intelligent and a force to be reckoned with. Even after all the odds seem to continually to be against them, they manage to keep fighting for their justly deserved equal rights.
I hope you can join me at Galeria Beso Maya on April 16th,  2016 from 5pm to 8pm and view my series Beauty & The Streets all collected in one place outside of my studio and enjoy some art.
Facebook Event Link: https://www.facebook.com/events/1697447153827143/